What did you do to recognize International Women's Day last week? At United Way, this year we reached out to a few of our amazing women partners, community members and board members asking them what this year's theme #EmbraceEquity means to them. Check out our blog to read their responses and share your own through the comments.  
Next Up On Your Calendar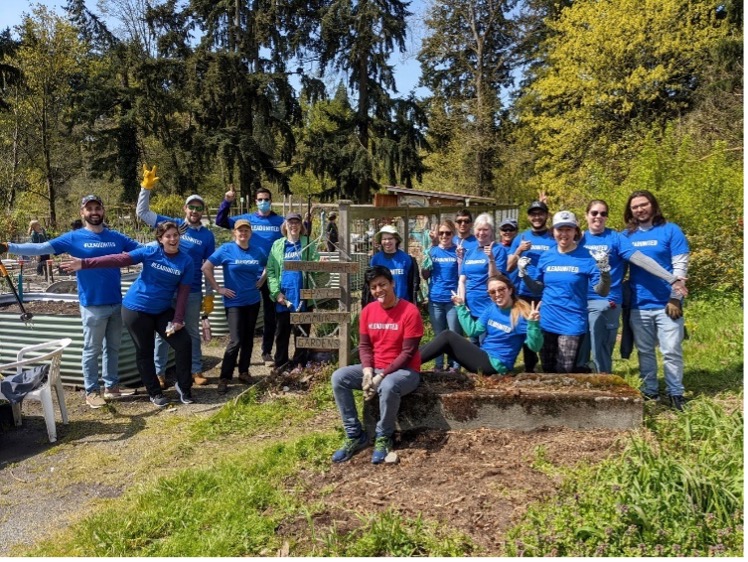 🌱 Volunteer—March 18: Monthly Volunteer Project: Gardening at the Giving Garden
Seasons are changing and Marra Farms is reopening to prepare for another harvest. Jon, the volunteer lead from Emerging Leaders 365, is looking forward to meeting you at the project, where we'll help prep the garden to support families having access to healthy and fresh produce. Will we see you there?
💹 Learn—March 29: Conversations for Change: Financial Stability for Families
Conversations for Change is just around the corner. At El Centro de la Raza's Centilia Cultural Center, we'll engage in conversation with United Way experts, volunteer tax preparers, and your neighbors about how the powerful anti-poverty tool, free tax prep, helps King County families, and how you can get involved.
🍞 Volunteer—April 15: National Volunteer Month: Big Impact Project w/ Food Lifeline
Young professionals are coming together once again to have a profound impact on the community. Join the Young Nonprofit Professional Network, YP Communities, and Emerging Leaders 365 as we join forces to prepare groceries at Food Lifeline for our most vulnerable neighbors.
🛬 Network—May 23: Happy Hour & Hellos: Sky High
Announcing the location for our next Happy Hour & Hellos at Alaska Airlines Hub! A brand new build located walking distance from the light rail. Don't want to walk? We've got you covered with shuttle service and free parking for those driving to the venue. This Happy Hour & Hellos comes with an abundance of space, live music, airline vouchers and a focus on helping students graduate!
ISSUE: TAX SEASON
We're just about a month away from the tax filing deadline (April 18 this year) and want to make sure you know about United Way of King County's free tax preparation services for the community. Learn more and spread the word to someone who may benefit from these services.
Who can receive free tax services?
United Way will prepare your taxes for absolutely free if you make less than $80,000.
Why prepare your taxes with United Way?
Where can folks prepare their taxes?
NEWSWORTHY
FOMO alert: Happy Hour & Hellos: Spheres of Influence
Check out our blog post from our event at the Amazon Spheres last month.
Love & Liberation: Putting Immigrant Students on Road to Success
Even in communities most welcoming to immigrants and refugees, folks offer promises of a better life but scarcely provide services to make it possible.
Thank you for your support as we work toward a racially just community where all people have homes, students graduate and families are financially stable.
Until next time,
-Taylor Roberson & the Emerging Leaders 365 Team
Thanks to our Emerging Leaders 365 sponsor:

Bookmark our Monthly Emerging Leaders 365 calendar to see all our upcoming opportunities. An easy way to stay in the loop!