Are you ready to be in community with each other?
Support your neighbors from the moment you walk into Happy Hour & Hellos: Invest in Community by bringing hygiene items to donate for families facing financial difficulties. There will be chances to win tickets to community events like the last Mariners games of the season and meet new friends while sipping wine on a rooftop! Plus, Emerging Leaders 365 donors get in free of charge. If that's you, reply, "Get my code" to this newsletter.

Our new co-chairs
Cristina Luevano-Santos
Seattle Children's Research Institute
Maurice Roper
Federal Reserve Way Bank San Francisco

"I'm looking forward to more hands-on volunteering opportunities."
—Cristina

"I really want to see more diversity in all of our events."
—Maurice
Next Up On Your Calendar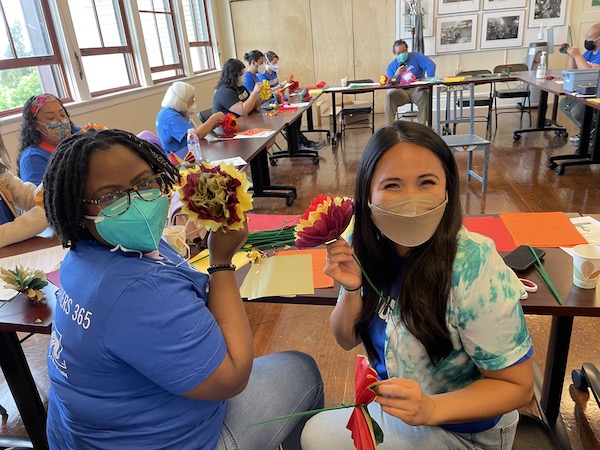 👪 Volunteer—September 9: Monthly Volunteer Project: Si Se Puede! Support El Centro de la Raza's Annual Gala
Craft flowers and organize auction items for El Centro de la Raza, an organization rooted in the Latino community. Tasks will include: creating paper flower decorations to be used at the convention center, organizing auction items, conducting telephone outreach to community members and past auction guests. Let's celebrate culture and work toward equality as we help El Centro de la Raza prepare for another season of giving back to community
🏁 Network—September 26: Happy Hour & Hellos: Invest in Community
Connect with like-minded professionals who want to make a difference in their communities at Happy Hour & Hellos. Light appetizers and beverages are provided with chances to win prizes throughout the evening. Northern Trust, a wealth management firm, will help us hone in on investing in community during difficult times as we enjoy familiar imagery from the family board game Monopoly. 
🍍 Volunteer—October 21: Monthly Volunteer Project: Feeding the Soul and Making a Difference
Did you know that food deserts exist in Seattle? Food deserts are defined by the USDA as a tract in which at least 100 households are located more than one-half mile from the nearest supermarket without adequate transportation. Lend a hand at Rainier Valley Food bank as they prepare food for families in underserved communities. Volunteers are needed to set up food distribution, stock non-perishable items, greet guests, and more.
NEWSWORTHY
Good Food, Good Turnout, and Good Times at the Community BBQ
This year's entertainment featured Red Eagle Soaring (who performed the Indigenous land acknowledgement).
Let's Celebrate Black Businesses and Black Philanthropy
In August, we honored and celebrated two observances that recognize Black people's contributions to economic empowerment and philanthropy.
Welcome new and renewing Emerging Leaders 365 donors:
Meena B. • Anthony B. • Dianne G. • Paul J. • Teresa L. • Nicole P. • Heather R. • Katherine S. • Rachel T. • Cindy T. • Joe V. • Patrick Z.
Thank you for your support as we work toward a racially just community where all people have homes, students graduate, and families are financially stable.
Until next time,
-Taylor Roberson & the Emerging Leaders 365 Team
Bookmark our monthly Emerging Leaders 365 calendar to see all our upcoming opportunities. An easy way to stay in the loop!